Join us for the 9th Annual Beat the Bird 5K Lil' Drumstick 1K on Thanksgiving Day, Thursday, November 22, 2018.  This event was started eight years ago as a fundraiser for Greatest Goal Global Ministries work in Sierra Leone. This year's race will raise money for a donation to the Renewal Food Bank in Bellevue.  The course starts at the Kelsey Creek Shopping Center in the Lake Hills area of east Bellevue.  The course is flat, fast and family friendly as 90% of the course runs away from traffic on the wide-open carriage trail path that winds through the Lake Hills Greenbelt Park.  Earn your turkey dinner Thanksgiving day by helping us raise money to feed those who are less fortunate.
 
REGISTER NOW
Open through November 20, 2018
About the event
Flat, fast course
Chip-timed
Family friendly - 90% of the race is through park land and away from traffic
Sponsors
Commemorative race medals for all participants. HOKA ONE ONE brand is sponsoring the prizes for the winning male and female of our Beat the Bird 5K. Each will receive a FREE pair of Hoka running shoes! plus age group winners: Under 10, 10-14, 15-19, 20-21, 30-39, 40-49, 50-59, 60-69, 70+. 
Thanks Hoka One One! Turkey's can't fly but you can with Hoka One One!
VOLUNTEERS NEEDED
An estimated 20 volunteers will be needed to ensure the safety and enjoyment of the runners expected to run the Beat the Bird 5K. If you are interested in volunteering, please contact: adam.stuhlfaut@shoesnfeet.com.
RACE BIB PICK-UP
Race day check-in begins at 8:00 AM on Thanksgiving morning.  You may also check-in on Wednesday, November 21, 1pm to 7pm, at SHOES-n-FEET , located at 15015 Main Street, Bellevue in the Kelsey Creek Center.  Please see for directions: http://www.shoesnfeet.com/our-store
RACE DAY SCHEDULE 
8:00 - Race Number/Chip Pickup
8:45 - Kids 1k
9:00 – 5K Start
9:45 - Awards Ceremony
11:00 - Courses Close
PARKING
There is ample parking near the start line in Kelsey Creek Plaza.  Just plus this address into your GPS device and you can't miss the parking lot: 15015 Main Street, Bellevue 98007. Please park in the area nearest to SHOES-n-FEET and along 148th Avenue.  Please do not park directly in front of Walmart, LA Fitness or Starbucks as those businesses are open and need the spaces for their customers. Please see this map in PDF or web browser.
ENTRY FEES
New for 2018! All finishers regardless of date registered will receive a finisher's medal! Scroll down to see an image of the medal for 2018.
5k (includes tech shirt, if registered by November 14, 2018)
$25 -- Early Bird to August 31
$30 -- September 1 to November 20
$35 -- Day of Race

Kids 1k (includes shirt, if registered by November 14, 2018)
$10 -- through November 20
$15 -- Day of Race
THE COURSE
WATER STATIONS
The 5K will have one water station at the corner of 156th Ave & SE 16th St that runners will pass twice, once on the way out at 1.25 miles and once on the way back at 1.75 miles.
RACE T-SHIRTS & MEDALS
New for 2018! All finishers regardless of date registered will receive a finisher's medal!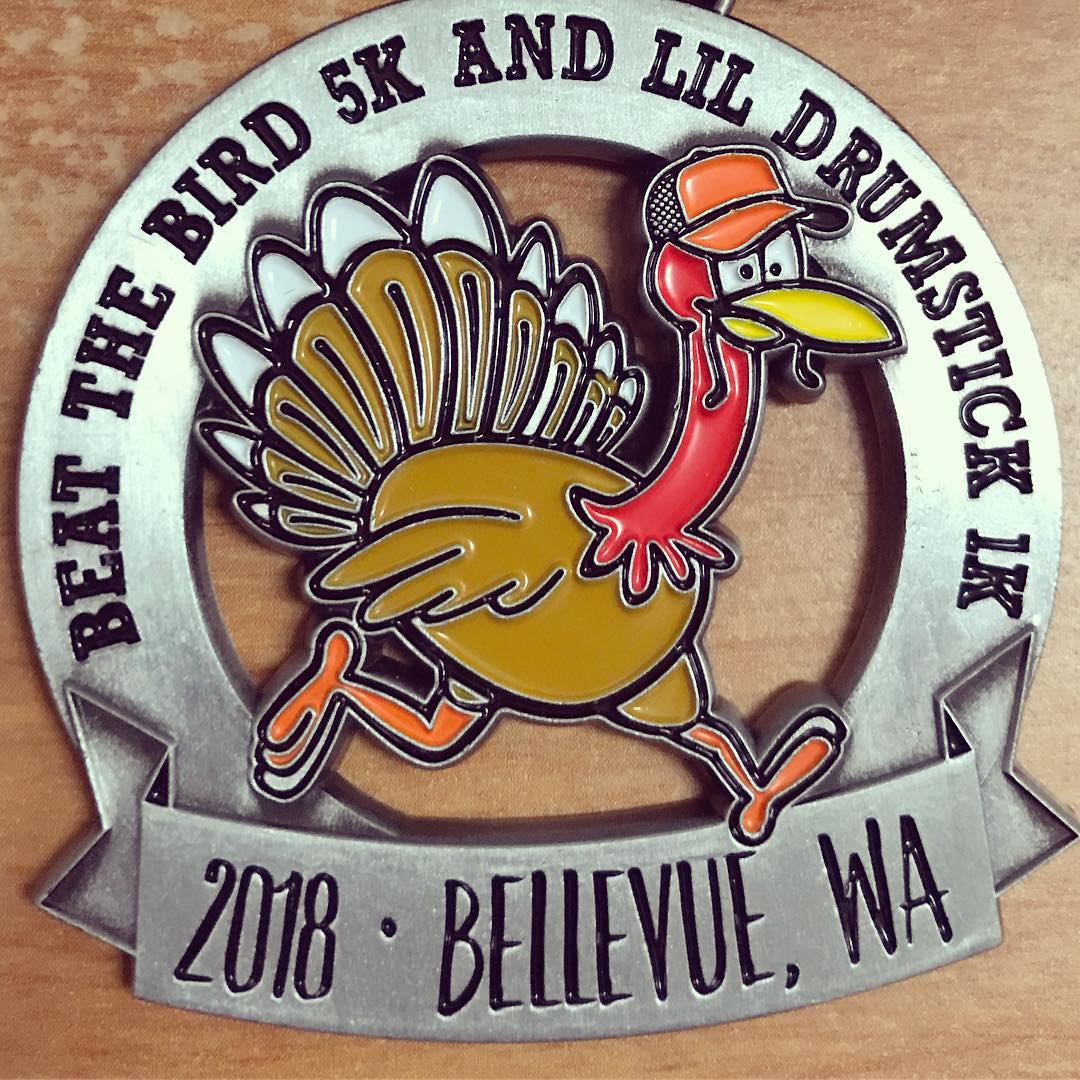 Each PRE-REGISTERED participant by NOVEMBER 14, 2018 receives a free technical shirt.

A limited number of shirts MAY be available for day of race registrants but are not guaranteed for anyone registering after November 14, 2018.
RACE RESULTS
Results will be made available onsite and online shortly after the race.
DRIVING DIRECTIONS
Google Maps address: 15015 Main Street, Bellevue, WA 98007
RACE BENEFICIARY