Coach Adam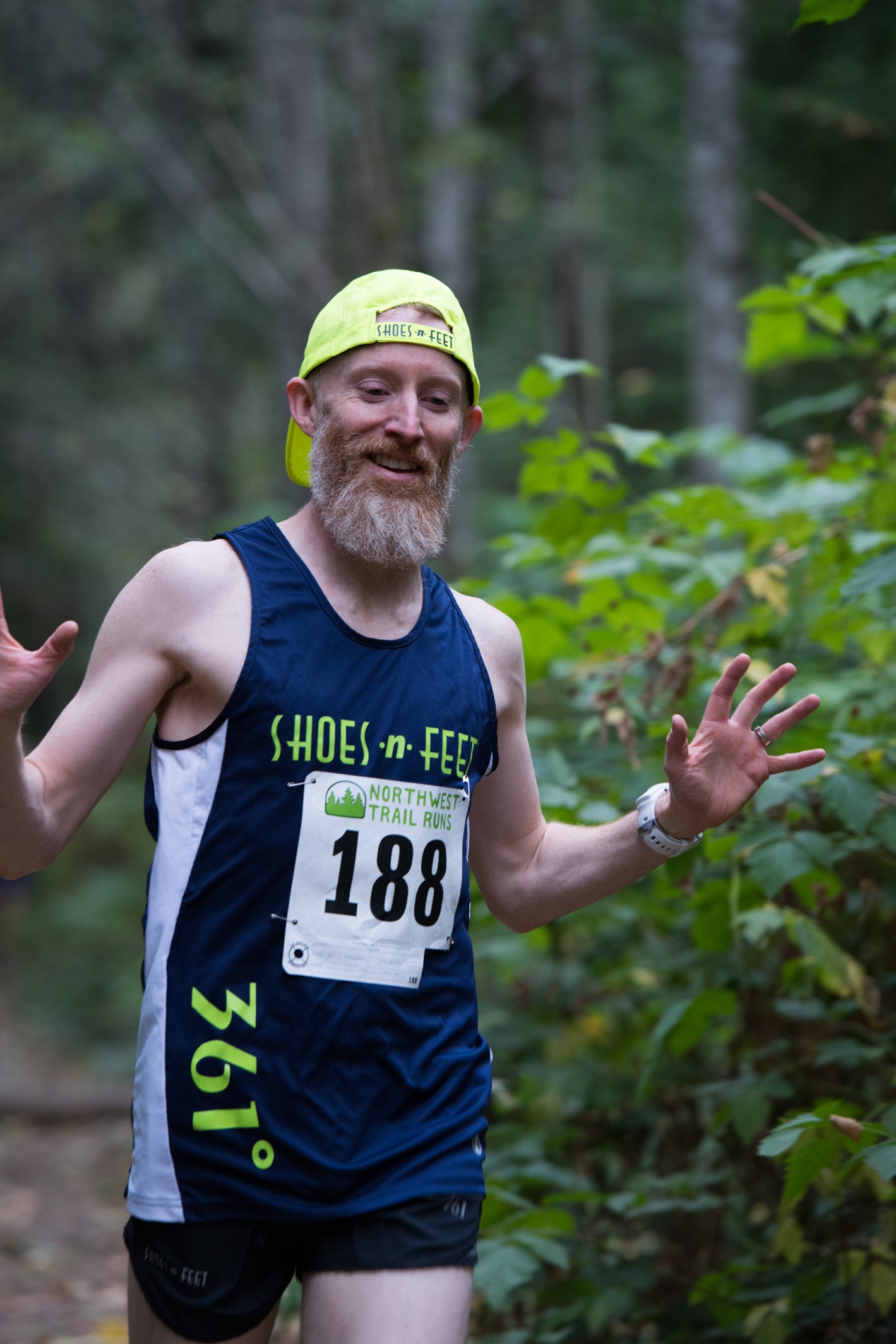 What motivated you to become a runner? 
I've been a runner for over 30 years. In 7th grade, I ran a timed mile in gym class in 7:36.  My uncle, who was a high school cross-country coach, was impressed by the time and encouraged me to give my junior high track and field team a try.  I was small for my age and my whole family was worried for me.  To their (and my) surprise, I won my first 800-meter track race and the rest is history!
What is your favorite race distance?
It keeps changing as I get older and slower.  Right now I enjoy trail marathons or anything that allows me to run more slowly and enjoy being in the woods for extended periods of time.
What was your favorite race or running event?
The Moran Relay on Orcas Island is fun because it combines my love for trail running with a team event.  
What are your goals for 2019?
I ruptured my Achilles September 2018 jumping over a rattlesnake on a trail run in Eastern Washington. I am recovering from reconstructive surgery, so 2019 is all about getting better and avoiding more snakes!
What is your favorite post-race meal?
I love a juicy hamburger after a race.
During a race, what is the food at an aid station that makes you retch? 
Anything too savory makes me instantly sick. During the Lost Lake 50K, I tried to eat one of those Epic brand bison bars (which I normally love) and I spit it out right in front of (and almost on) an unsuspecting hiker that I was running past. 
What do you tell yourself for motivation as you run up the steepest hills? 
Everybody hates hills, but I tell myself to love them because they make me stronger.  
What is your favorite running inspirational quote? 
My high school coach, Bill Miles, used to say "The bravest runner is not the runner who goes for the win only to finish second, the bravest runner is the runner who thinks they are going to get last but shows up anyway." I like this because it takes away the notion that running is all about winning.  Running is for everyone, all you have to do is show up.  
What is your favorite running shoe?
In the winter, the Topo Hydroventure. It's the lightest waterproof trail shoe on the market.  In the summer, the Hoka Hupana.  It's super light but doesn't sacrifice on cushioning.
Do you prefer trucker hats or mesh hats or no hat for running and why?
Truckers for training. I'm not sure why I'm a sucker for a trendy hat.  Mesh for racing to keep my head cool.
Do you prefer running on roads or trails and why? 
Trails. I'm a teary-eyed lover of nature.  
What is your biggest reason you continue to run?
When I was young it was for the competition, but now I have two reasons. First, I love the challenge of staying fit as I get older.  Every stage brings a new challenge, and I love challenges. Two, to set a good example for my kids that you don't have to give up on things you love because they get challenging. Embracing the challenge is how I find my enjoyment for life!