Coach Kaeli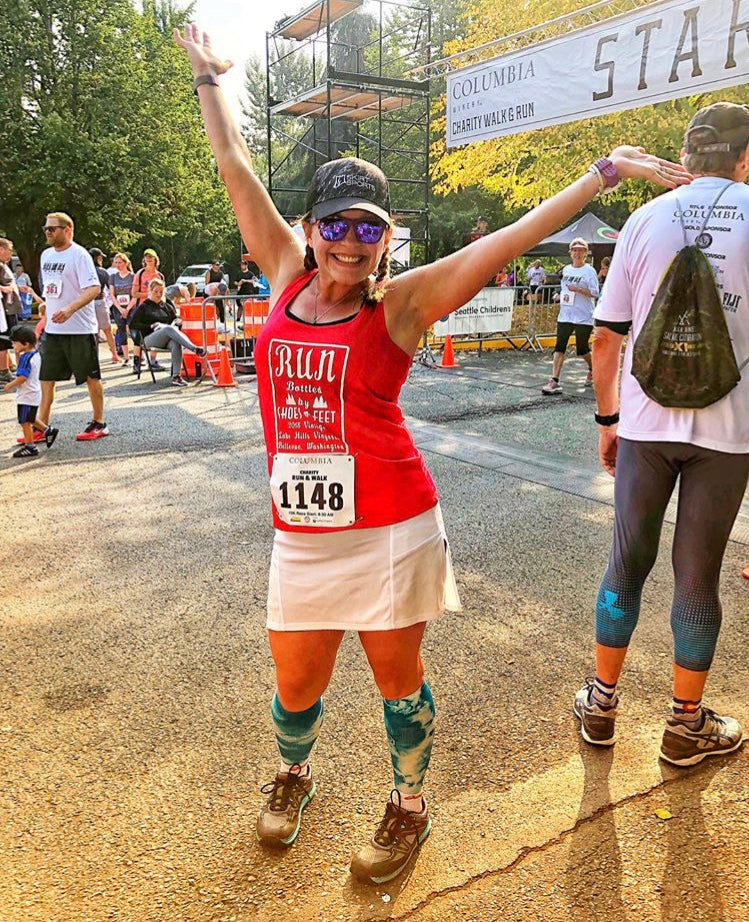 What motivated you to become a runner?
Improving my health and stress level. I started by walking after work to clear my head and added running intervals. I signed up for a half marathon as a goal and fell in love with running and racing. The rest is history. 
What is your favorite race distance?
Half marathon, 73 total followed by a full marathon, 8 total
What was your favorite race or running event?
Seattle Quadzuki- 4 half marathons in 4 days over Thanksgiving break. It's like a running party with all my close friends.
What are your goals for 2019?
Complete a 100k ultra run as well as a 24-hour endurance race.
What is your favorite post-race meal?
Anything that includes French fries (salt salt salt) A bacon burger and a beer is standard after full marathons. 
During a race, what is the food at an aid station that makes you retch? 
Any kind of Gu or gel. Yuck 🤢
What do you tell yourself for motivation as you run up the steepest hills?  
Ain't nothing to it but to do it and it's good for me. 
What is your favorite running inspirational quote? 
"The more I run, the more I love my body. Not because it's perfect, far from it. But because with every mile it is proving to be I am capable of more than I ever thought possible". - unknown
What is your favorite running shoe?
Topo Hydroventure for trails and Brooks Ghost for the road. 
Do you prefer trucker hats or mesh hats or no hat for running and why?
I have more trucker hats then mesh so I'm going with trucker.
Do you prefer running on roads or trails and why? 
Trails trails trails! It's easier on the body and it's much prettier and more challenging than the road. Nature is awesome and I love any chance to be out in it. 
What is your biggest reason you continue to run? 
I run for many reasons but the biggest is probably for my health, both physical and mental. Running gives me goals, structure and stress relief. It also teaches me to keep going even when things are hard and uncomfortable. Nothing better than conquering a tough run or race. Like my quote, running has taught me that I am capable then so much more than I ever thought.