Certified Shoe Fitting Specialists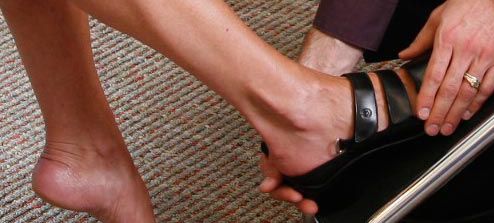 Our training makes the difference
Today's shoes are more specialized than ever before, which can make finding the pair to match your lifestyle and your foot a challenging experience. Finding this fit is exactly what the staff at SHOES-n-FEET® are experts in doing. Get to know us by reading bios of our staff.  
The SHOES-n-FEET staff is highly trained to be able to help you find the best shoes for your feet. In fact, new staff members spend over 180 hours in extensive training in just their first three months. They learn about foot problems, foot structure, and problem solving. They talk shoes and feet until we're certain that they can knowledgeably guide our customers to the best selection.  Finally, all shoe fitters must pass a comprehensive certification exam, ensuring the same high level of expertise regardless of which store you visit or which shoe fitter you see.
A knowledgeable staff of Shoe Fitting Specialists
The SHOES-n-FEET staff is dedicated to delighting you with a professional and comprehensive shoe fitting experience unlike any you have ever had. We are here to provide you with a perfect fit in shoes that complement your lifestyle.
Our expertise is not an accident; to ensure that customers receive the best possible fit, all staff members participate in a rigorous training program to become experts in:
Professional shoe fitting
Matching foot shape to specific shoes
Shoe construction and features
Customization of shoes
Shoe evaluation
Fitting over-the-counter arch supports
Adjusting over-the-counter arch supports to better fit in shoes
Fitting custom orthotics
Common foot problems and causes of foot pain
Insoles
Lacing techniques
Customer service
Finding solutions for customers' needs
We understand your feet and the shoes you put them in. Whether you just want a comfortable shoe that is also fashion-forward, you have problems such as bunions causing you foot pain, or you need orthotics or arch supports to fit into your shoes, our staff can help you.