From the Owner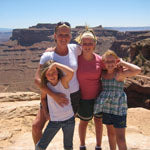 My name is JB Smith and I am part owner of SHOES-n-FEET. I guess you could say shoes are in my blood. I am sure a lot of women think of themselves this way, but for me it is a little different as I am the sixth generation involved in the shoe business in one fashion or another. Historically my family repaired shoes—in fact, I worked my way through college repairing shoes for my dad in one of his Busy Shoes instant shoe repair stores.
I didn't realize it then, but that experience really helps me today at SHOES-n-FEET, because I understand shoe construction, materials and function much better. I wasn't ready to stay with shoes, though, and pursued a master's degree in genetics of all things. Whenever I would meet someone new, either when I was fixing shoes or involved in genetics, it would always be the same…"You do what?" Followed by, "I have this favorite pair of shoes" or "My uncle has such and such," and "What should I do?"  I always say everyone has genes and shoes, which has been a good thing for me.
I consider our customers to be the more complicated or sophisticated footwear consumers. They are people who understand that good health and well-being starts with their feet, or people who have foot pain, wear orthotics, or need over-the-counter arch supports—in either case, just selling them a pair of shoes simply will not work. This is why we don't sell shoes, but instead provide a service. The Certified Shoe Fitting Specialists use their training and knowledge about feet and shoes to help educate you, the customer, about what shoe is best for you, and then to make sure you get the best fit possible. The end result is that you leave with a pair or more of shoes in your bag, but the reason you came to us in the first place and the reason you will come back time and time again is because of the service we provide;  a service so unique you just cannot get anywhere else. 
This is what I love about being involved with SHOES-n-FEET—the fact that it is unique, helps people and does it so well that people choose to come back time and time again.