Making the Most of Your Trip to SHOES-n-FEET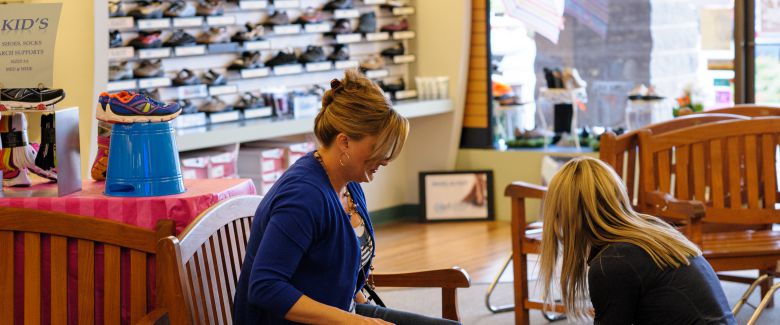 We look forward to taking care of you at SHOES-n-FEET® and we know that many of our customers come from many miles around to visit. Since many of you do travel quite a ways to see us, we want to make sure that your visit is as fulfilling as is possible. The following hints will help you make the most of your visit.
Plan to spend a little more time
At SHOES-n-FEET proper fitting usually takes about 20 minutes longer than at other stores. Our staff is trained to check every aspect of the shoe fit to ensure that you receive the correct shoes for your feet. We measure both your feet for the correct length and width, we watch you walk, we evaluate wear patterns on your old shoes, and we may use new computerized technology to identify the pressure points across your foot: all necessary elements for proper shoe fitting.
Bring your orthotics
If you wear orthotics, bring them with you to SHOES-n-FEET. Our staff understands how to best fit orthotics into shoes. They will ensure that your feet, your orthotics, and your shoes all work well together. If you don't wear orthotics, we may be able to help you find a pair of over-the-counter (OTC) arch supports that will help your shoes fit better and give even greater comfort to your feet. SHOES-n-FEET carries the West Coast's largest selection of OTC arch supports.
Bring the socks you plan to wear
Socks play a crucial role in shoe fit. We will take into account the socks you wear and/or help educate you on how to use socks to improve your foot health. Please bring the socks or hose you use for athletics, casual and dress shoes.