Trail Shoes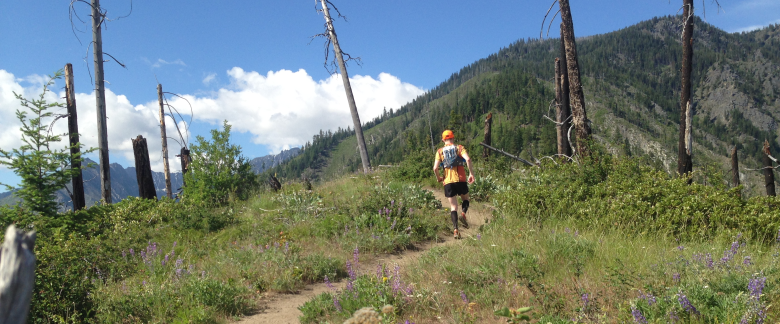 Hitting the Trail in the Right Shoe
It isn't the best idea to walk a natural trail in your usual walking or running shoes. Trail shoes are specifically designed for natural terrain. For rocky, rooted, dusty and muddy trails a trail shoe gives added traction and support.
What makes a shoe a trail shoe?
Trail shoes are meant to hit the dirt and mud. Their colors often hide the dirt, they are made of materials that are more easily cleaned, and they come in a variety of degrees of water resistance. The sole of a trail shoe will be rugged-looking, to give better traction. The sole will also be thick enough and cushioned so you don't feel the gravel, rocks, and roots. Often the sole will extend up the side of the shoe and over the toes to prevent stubbing. Like hiking boots, trail shoes generally provide more stability and support than regular running and walking shoes. However, some are designed more for looks than function and do not provide the additional support you are looking for or need, risking injury and foot pain. Shop with an eye on function and not fashion when it comes to your trail shoe. Read more about trail shoes in our blog.
Wearing the proper socks is very important, especially selecting socks that wick moisture away from the foot and have the correct amount of cushioning and padding. You should always try on your new trail shoes with the socks you intend to wear in them, so the fit can be adjusted accordingly. If you wear custom orthotics or over-the-counter arch supports when you walk or run, you will definitely want to wear them when you go off-road to prevent foot pain, fatigue or more severe injuries. This can be more difficult as trail shoes tend to be stiffer and less flexible than athletic or walking shoes. For this reason, always bring your orthotic or arch support with you when trying on new trail shoes for a proper fit.
Brands: Brooks, Hoka One One, New Balance, Topo Athletic