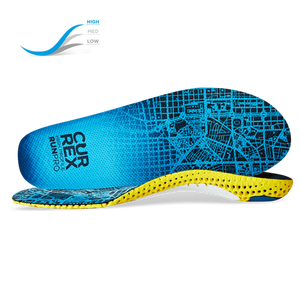 CURREX RUN PRO HIGH
$5500

$55.00
Free shipping on purchases over $100
---
---
Rated #1 in Comfort & Foot Pressure Relief*
Designed by leading German sports scientists, CURREX are reported to significantly improve the comfort & support of running shoes, which may help to reduce injuries & pain from plantar fasciitis & other common foot problems. Each insole boasts a different shape, arch height & flex, allowing for a customized fit for your unique foot shape. 
*Scientific Study, German Sports University of Cologne, German 
Benefits Include:
 3D Dynamic Arch for anatomic support, dynamic stability & less fatigue.
PROPO+ for maximum rebound & powerful propulsion
PORON® heel cushion for rebound & shock absorption
Size Chart:
XS: Mens/Kids: 3-4.5, Womens: 4.5-6, EU: 34.5-36.5
S: Mens/Kids: 5-6.5, Womens: 6.5-8, EU: 37-39
M: Mens/Kids: 7-8.5, Womens: 8.5-10, EU: 39.5-41.5
L: Mens: 9-10.5, Womens: 10.5-12, EU: 42-44
XL: Mens: 11-12.5, Womens: 12.5-14, EU: 44.5-46.5
XXL: Mens 13-15, Womens: 14.5-16.5, EU: 47-49
---