July's Shoe of the Month: Naot's Lilia
Posted by JB Smith, Co-Owner on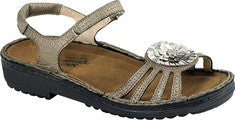 The Lilia, by Naot, is a new look on a classic sole. The Lilia is in the Scandinavian collection, which includes some of the best walking casual soles for Naot. This collection and this specific sandal are a perfect choice to be that one sandal to travel with, thanks to its emphasis on support and comfort, as well as the stylish versatility that lets you go anywhere in it. 
Naot shoes encourage you to "nestle into the softness," and you'll be hard pressed to not to fall in love with the Lilia's natural fit. With a medium width and 1 1/4" heel, the removable cork and latex footbed make it a perfect orthotic-friendly sandal. If you keep the shoe as is, you can be sure that, with wear, the suede covered footbed with mold to the shape of your feet.
Lilia adds a little more pop to the usual styles in this collection with an embellishment over the forefoot. The styling allows this sandal to be worn casually with jeans and shorts, but easily fits in with more fashionable wardrobe choices, like that new summer dress waiting for its debut in your closet. Available in Black Pearl and Mandarin as well, the Lilia in Platinum has a great neutral tone that will go with just about any color.
More posts
---
Share this post
---
---