Shoes for Travel Abroad
Posted by JB Smith, Co-Owner on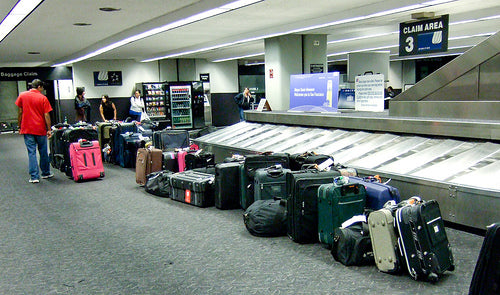 Way back when, Ask the Shoefitter shared some tips on how to stay safe while traveling with some "footcare in the air" dos and don'ts. With summer fast approaching, there may be more opportunities for a little vacation to take advantage of your family's school break or to escape the heat. We know how hard it is to pack a suitcase, so we'd like to help!
Lara, an all-star Certified Shoe Fitting Specialist, recently came back from a trip abroad to Europe. And as a 10-year veteran of the SHOES-n-FEET team, what do you think caught her eye during her travels? Was her attention solely focused up in the air at cathedral spires, castle towers and modern skyscrapers? Of course not! Lucky for us, Lara took note of something closer to the ground - SHOES!
She noticed a lot of things about the footwear choices of our neighbors across the Atlantic. Do you have a summer trip coming up? Or maybe you're just looking for a little taste of Old World-style? Here are some of her observations to help you add some continental flavor into your shoe rack (or your luggage):
MBTs are all over the place, on men and women.
Black is definitely the color of choice for men's footwear.
Sandals are a major fashion no-no for men.
Athletic shoes that are all white or mostly white are not exactly on the top of the style heap.
New Balances are, to quote Zoolander, "so HOT right now."
Any sort of non-white athletic shoe puts you in the running for "Best Dressed."
Just like at home, women love sandals. There were a lot of Finn Comfort, Naot and Aravon Katys
Canvas shoes are in demand for all age groups, men and women - Dansko's canvas clogs rule!
Ballet flats are top choice for women of all ages. (Hopefully they're choosing ones with better support than the pain-causing majority. Go with a flat with built-in arch support or give an OTC orthotic a try. WelStand insoles can be placed in flats, sneakers or formal footwear.)
So as the old saying goes, "When in Rome, do as the Romans do." Take the extra step to find some shoes that don't shout "obvious American tourist" and let you fit right in with your new European friends. Plus, comfortable and well-fitted shoes like the ones above will allow you to leave the foot pain at home so that you can have a great time on your travels - because you'll definitely be doing a lot of walking! 
Need some more advice? Still have questions? Come see our Shoe Fitting Specialists at any of our SHOES-n-FEET locations today to help you find that perfect pair (or two)!
More posts
---
Share this post
---
---