Trail Shoes: Facts & Myths
Posted by Adam Stuhlfaut, Director of Running on
The "trail" designation for a running shoe is helpful because it might describe the purpose of the shoe. However, not every "trail" running shoe is appropriate for every trail, and many shoes marketed as road running shoes are also appropriate for many trails and can also be more versatile that a "trail" shoe.  When I worked for a major shoe brand, the internal joke about trail shoes was it was a category created solely to sell extra to shoes to consumers. By labeling them as "trail" verses "road" shoes, we could convince consumers they needed both shoes.  In reality, there are trail shoes that are labeled "trail" that are truly functionally different and then there are those trails shoes that are different only in that they have a trail "look".
When customers come to the SHOES-n-FEET seeking advice on trail running shoes, I tell them to keep in mind the functionality they are looking for and don't get fooled by labels and marketing. At SHOES-n-FEET, we don't stock a lot of "trail" shoes because, frankly, you don't need them.
Here are four areas to consider when thinking about trail friendly shoes:
Full ground contact, no stability web – When on the trails runners tend to land with all different parts of the foot.  Shoes with a full and consistent midsole/outsole, verses a shoe with a stability web, allows for the most options for foot strike and placement.  Plus, plastic stability webs can break on rocks or roots.  Lots of road shoes fit this category.  In-store we have the Brooks Glycerin, Saucony Triumph, 361 Shield among others.   
Rubber traction – On any given day the trail might have dry and dusty hard-packed dirt or wet and muddy puddles.  Runners need enough rubber lugs on the bottom of their shoes to have traction in different environments.  Many of the trail shoes really do not have an effectively different amount of traction than road shoes.  Consider the Adrenaline ASR, which the trail version of the Adrenaline GTS.  The rubber traction is in a different pattern but is not measurably deeper nor have measurable better traction.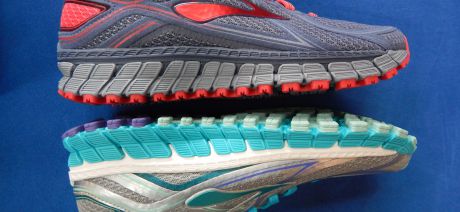 One of the common misconceptions with rubber traction is that bigger is better.Yes, if the entire run will be wet, muddy or soft snow conditions large rubber lugs are necessary.However, large rubber lugs on dry or hard surfaces can be quite painful as the lugs are pushed back into the runner's feet on impact.Also, large lugs can be a tripping hazard as they can extend an inch or more further than the runner is accustomed to and it's easy to trip on a rock that the runner thinks he/she has cleared.
Lightweight & flexible – Running on trails often involves some jumping over rocks or downed trees, scrambling on rocks or other agility.  These movements are much easier in lighter shoes. Lightweight shoes are found in both the road and trail categories.  In fact, many road shoes are much more lightweight than trail shoes due to use of lighter materials in construction. For example, basic venting mesh uppers are much more lightweight than Gore-Tex uppers. Flexible shoes also allow for more agility on the trails. Technical trails (i.e. trails with difficult footing and lots of turns/switchbacks) tend to call for more flexibility to get around those twists and turns. 
Protection – Shoes marketed for trails often are built with a piece of protective material in the midsole of the shoe called a "rock-plate".  Shoe companies make the rock-plate out of anything from semi-soft plastic to rock hard carbon fiber or steel.  The upside of the rock-plate is protection from stepping on rocks and roots.  The downsides are that these plates add weight and sacrifice on flexibility.  In the case of protection, its best to consider the trail.  If the trail is mostly well maintained with a rock or root here and there (90% of the trails on the Western Washington) you might not need a rock-plate at all. If you are crossing large fields of scree than they might be necessary.  Or consider other types of protection.  Hoka One One shoes have an extra thick, yet lightweight midsole that will serve to both cushion your foot strike and also protect from small rocks and other debris. 
Within our shoe selection at SHOES-n-FEET, the two best shoes for trail running are the Brooks Glycerin and the Saucony Triumph. Both are a good combination of nimbleness, protection and the right amount of traction for 90% of the trails in Western Washington.  If a little more protection is needed, then the Hoka One One Stinson ATR is the way to go.  In the fall, we will be adding the Brooks Cascadia as well. 
More posts
---
Share this post
---
---