A How-To Guide for Conquering Winter Running
Posted by Aviva Browning, Assistant Running & Fitness Coordinator on
Every winter, I find myself shocked by the rain and the darkness that encompasses the Pacific Northwest. It is a struggle for me to maintain fitness when the warmth of my bed seems much more inviting than a cold, blustery run. Here are 5 tips to help you train through the winter months.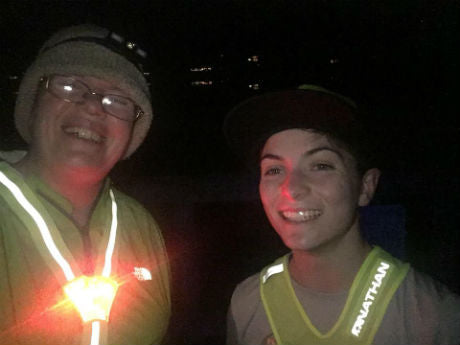 Prepare for darkness! 70% of pedestrian fatalities happen at night and, as I'm sure you've noticed, we have a lot of "night" during the winter. Most runners' regular work schedules require them to run in the dark. To be properly outfitted, you should have a bright, white-light headlamp (facing forward), a reflective vest, and a red (or other color) flashing light facing backwards. For more comprehensive information on running safety, check out Adam's Winter Running Equipment blog post here.
Wear layers! I find that if I am cold when I leave the house, I am much more likely to cut my run short, or ditch it altogether. Bringing a rain jacket, pullover and long sleeve allow me to stay happy from the beginning to the end of my run, because I can adjust my temperature on the go. For more information on what exactly to wear, again check out Adam's Winter Running Equipment blog post here. 
Plan in advance! It is much easier to ignore a run if you did not already commit to doing it. Deciding to write down a training plan will greatly increase the likelihood that you actually complete your workout. Additionally, keeping a log of your progress will provide an extra level of motivation and consistency. 
Use others as motivation! Let's be real, it is much easier to be kept accountable by others than by yourself. Running with friends, sharing your progress with others and attending group events will help you stay focused. If you're looking for an accountability measure, consider entering our Winter Warrior Challenge for the month of January (more information coming soon), and/or enrolling in our Stronger Runner Training Program (for more information, click here). 
Register for a race! Nothing is more motivating than a deadline. If you spend money on race registration, you will be much more likely to spend time on training. Even better, get a team together so you can all hold one another accountable. Click here to find a list of upcoming races in Washington. 
More posts
---
Share this post
---
---