January's Shoe Fitter of the Month: Aimée C. from SHOES-n-FEET San Francisco, California
Posted by JB Smith, Co-Owner on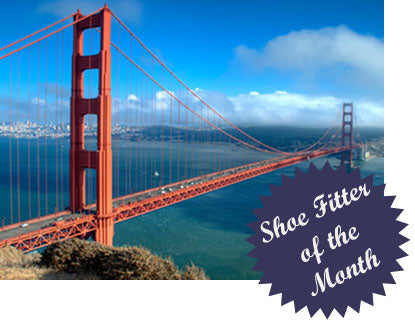 We're starting the new year off with the perfect pick for January's Shoe Fitter of the Month - Aimée from SHOES-n-FEET San Francisco. Aimée is a true jill of all trades at the Lombard Street store, and her sense of humor makes her a big hit with both employees and customers alike. A huge fan of the Bay Area, you now know who to call for a recommendation for a good Thai restaurant in the SHOES-n-FEET neighborhood!
Name: Aimée C.
SHOES-n-FEET location: San Francisco, CA
Position: Shoe Fitter, Merchandiser, Email Advertising Coordinator….also Janitor, Customer Therapist…. I wear many hats at our small business!  
How long have you been working for SHOES-n-FEET? 4 years.
What is the first pair of shoes you remember? A pair of white, hard leather toddler shoes.
If you could travel to one place in the world, where would it be? The Maldives.
What's your biggest foot- or shoe-related pet peeve? When someone says: "I have a quad-A heel."  (quad-A [or 4A or AAAA] = extremely narrow)
If you were a superhero, would you rather have the power to run really fast or to jump really high? Jump really high
What is your favorite outdoor activity? Hiking
What pair of shoes could you not live without? My Brooks Adrenaline Trail
If you were stranded on a desert island and could only have 3 items with you, what would they be and why? A ball to keep me entertained, a good knife to kill some yummy fish and feed myself, and a male companion to help me repopulate the island.
If you had to eat one food for the rest of your life, what would it be? Thai food
What's your favorite thing about San Francisco?  There is never a dull moment in San Francisco. The diverse population, food, activities make it an exciting place to be all the time!
More posts
---
Share this post
---
---