New shoe alert! New Balance 980 Fresh Foam
Posted by JB Smith, Co-Owner on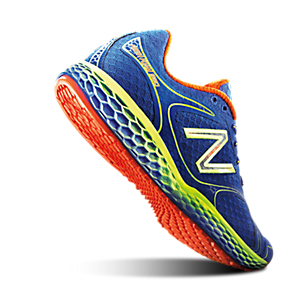 Have you heard the term "maximalist"? It is a response to the minimalist movement of the past several years. The minimalist movement lauded barefoot running as the penultimate way to run. But, it was finally recognized that though the mechanics of running barefoot may be the desired end result, the comfort, protection and warmth of shoes is still desirable. The new breed of minimalist shoes specifically focused on a flat profile and a responsive sole, so that a runner could feel the road underneath them. That meant it was missing any cushioning at all. The theory was that cushioning wasn't necessary if your body was running efficiently (with good form) and a built up heel was wrecking that good form.
But after lots and lots of pounding miles on the road, some runners discovered that they did truly need and want cushioning. Using the minimalist model of keeping the foot flat, without a built-up heel, and keeping shoe weight down, but adding in cushioning, a new generation of running shoe is born. A lightweight, low heel drop training shoe.
The New Balance 980 Fresh Foam is a full comfort shoe that features a new foam midsole for the ultimate cushioned experience. But despite the plush ride, the new foam keeps it super lightweight. The upper is "no sew" mesh that is comfortable and breathable without seams to rub or chafe. It is suitable for both midfoot and heel striking strides and does offer stability that is lacking in other shoes in this area. All this paired with the 4mm heel drop is a unique innovation in the "natural" running options on the market.
At SHOES-n-FEET we carry 3 shoes that fit this new category. The Brooks "Pure Project" presents minimalist ideas, and its most cushioned shoe is the Pure Flow. The Saucony Kinvara is a well-known shoe that many have called an introduction to minimalism. And the newest contender, the New Balance 980 Fresh Foam, promises all the features of a cushioned and stable training shoe, but stays very lightweight and flat.  Here is a quick comparison:
NB 980 Fresh Foam
Brooks Pure Flow
 Saucony Kinvara

4mm heel drop
Soft but stable
Midfoot or heel striker
Most cushioned
Thick, breathable upper, all one piece (no sew construction)
Accommodates more foot widths

4mmheel drop
Neutral, medium arch
Midfoot or forefoot stride
Some cushion
More durable upper, less breathable
For average width, not wide

4mmheel drop
Neutral, no stability or support
Midfoot or forefoot stride
Some cushion, less than Pure Flow
Less durable upper, but lighter and breathable
Narrow toe box
More posts
---
Share this post
---
---