Shoe Review – Dressy orthotic friendly shoes they do exist: Aravon Maya vs. Aravon Mia
Posted by JB Smith, Co-Owner on
I have really enjoyed selling the Mia and now Aravon has come out with the Maya, and it is great! The Mia has been one of my go to shoes for customers that need a stiffer front (rocker sole) but also want to be a little dressier.  Both the Maya and Mia are built on the Stridarc Rocker Sole which has a bi-fit board embedded in the outsole.  This bi-fit board works with the foot to give great support to mitigate impact on many of the tiny joints and muscles in the ball of the foot.  Also offering optimal comfort is the 3mm thick contoured memory foam insole that is removable if you need to put in an over the counter or custom orthotic in.
Both shoes are built on a 1.5 inch heel with a very nice heel to toe slant.  This means that you will not be putting too much pressure on the ball of your feet.  This is one of the most important things I look for when I purchase shoes for my stores.  We want the weight to be distributed as evenly as possible.
As for the differences in the shoes:  The Maya has been fitting a little deeper in the toe box than the Mia which has been good for customers with bunions or wider feet.  It also comes up a little higher over the toes covering just a little more of the foot.  The strap on the Maya is a Velcro closure instead of a buckle giving much more adjustment availability.
For the Mia the only real problem is that it has the cut outs by the bunion areas and sometimes that can cause rubbing for customers.
 Figure 1 Aravon Maya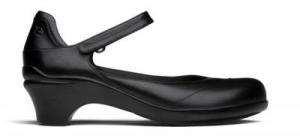 Figure 2 Aravon Mia
If you like this shoe you can also try the Morgan, Maddie and their great selection of sandals!
Chris
Owner San Francisco
______________
Categories: Orthotic friendly shoes, dress shoes, rocker soled shoes, shoe review.
More posts
---
Share this post
---
---