April's Shoe of the Month: Finn Comfort's Gomera
Posted by JB Smith, Co-Owner on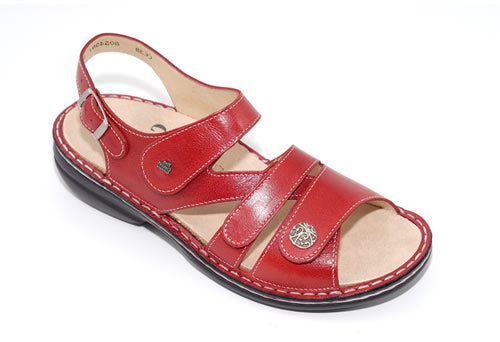 Second up in our new series of monthly blog installments is the Shoe of the Month, where we bring to you the pair of shoes making everyone's toes wag at our SHOES-n-FEET stores. We'll give you an extensive review of what makes these shoes stand out. For our inaugural month, we would like to present the Gomera, by Finn Comfort, a top choice for all women, especially those in the market for a fabulous travel sandal.
Finn Comfort shoes are known for being "the finest walking shoes on Earth," and the Gomera, a women's sandal, is no exception. The ultimate dress up or dress down sandal, it is polished enough to wear to work and comfortable enough to wear everywhere else. Available in a wide range of colors and textures (including the vivid red pictured about), these shoes are hand crafted in Germany, the work of over a hundred highly skilled individuals. Finn Comfort has combined old world European craftsmanship with medical know-how and state of the art modern technologies to give their sandals quality, support and amazing comfort. All of Finn Comforts have an air circulation system built into each outsole, as well as a unique heel.
Like the rest of the Finn Comfort styles, the Gomera's footbeds (made of natural cork, latex, jute and suede) are anatomically contour-molded and ergonomically designed to reflect the natural shape of a healthy foot. They encourage good posture and proper foot function while cradling your feet from heel to toe. There are two different types of foot beds offered: Firm and Soft.  The Firm Footbed is an anatomical footbed that provides a lot of corrective structural support.  The Soft Footbed additionally is great for women needing extra shock absorption and cushion. These shoes are designed to support the foot and the entire body properly and naturally — wearing them is like walking barefoot in the sand. The resulting even distribution of pressure across the entire foot reduces and prevents foot ailments.
The Gomera is a perfect option for women who have pressure points causing them pain or who simply want proper support, not just for their feet but for the rest of their body as well. Anyone who needs to redistribute foot pressure off of key spots and on to the whole foot (due to plantar fasciities, neuroma(s), metatarsalgia, heel pain, hallux valgus (bunion anomaly), hallux rigidus (stiff big toe joint), deformed toes, swelling feet, and/or highly sensitive feet) will benefit greatly from these sandals, no matter where they are — strolling in the park or working in the office!
And while you can easily use your Gomera's with your prescription orthotics, they have such great support of all three arches that many people who have custom orthotics use the insole that comes with the shoe as is. In fact, many of the doctors who refer their patients to SHOES-n-FEET recommend that they wear Finn Comfort sandals as a house shoe when they are not wearing their custom orthotics.
So what are you waiting for? Head to the SHOES-n-FEET location near you to introduce your feet to this amazing spring sandal!
More posts
---
Share this post
---
---