August's Shoe of the Month: Naot's Universe
Posted by JB Smith, Co-Owner on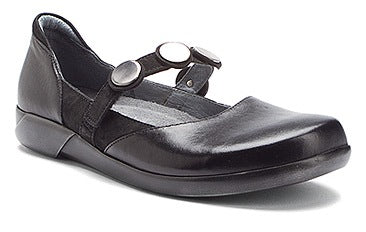 August ends today, but that doesn't mean we can't use these final hours to give you our Shoe of the Month (I hear this one works fabulously for September...and October...and November, especially paired with black, textured or even brightly colored tights!). We present the Universe, a great-looking Mary Jane by Naot. It's an amazing shoe to round out your work wardrobe and get you excited for the fall.
The Universe, available in the richly-named Black Velvet and Brown French Roast, is a perfect style for a casual day out or a slightly more dressed up look. Problems with your arches? This shoe is ideal for those professional women looking for good arch support. It also benefits victims of that evil (but oh so common) cause of foot pain, plantar fasciitis. Of course, even if you have perfectly happy (and pain-free) feet, the roomy toebox and snug heel makes this a cute and super comfortable option.
Thanks to the shock absorbing insole, this style is especially perfect for someone who stands for long periods of time and/or who needs a slight dressy style to wear at work or to an event. Wearable with your OTC or custom orthotics, the Universe has a removable cork footbed and a hook and loop at instep to allow adjustability. Additionally, at a SHOES-n-FEET store, staff can build up the arch by adding additional cork to the footbed if the customer needs more support.
More posts
---
Share this post
---
---