Lace Up Those Sneakers for the Komen 3-Day
Posted by JB Smith, Co-Owner on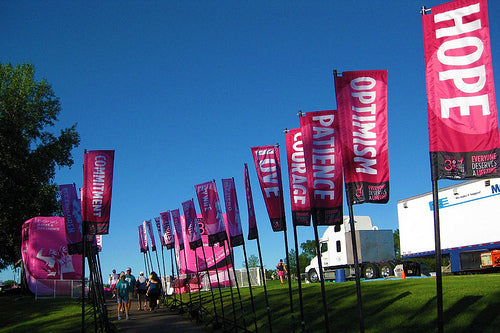 During the Susan G. Komen 3-Day for the Cure Walks, participants are challenged to walk 60 miles over the course of three days. Held annually during the summer and fall in cities all over the country, the event brings together survivors, friends, families and communities to raise money and demonstrate support for breast cancer causes.
In September, the Komen 3-Day arrives in two SHOES-n-FEET cities: San Francisco and Seattle. As an official sponsor of the event, we want to make sure you're ready and excited to achieve your weekend goals.
What should I do to prepare?
By the time the 3-Day arrives in your city, you should be comfortable walking 15-20 miles two days in a row. This can mean walking 6-12 hours a day, so depending on your evel of physical fitness when you begin training, participation in the walk may require some serious and long-term preparation. Some would even compare it to getting ready for a marathon (perhaps your next challenge?).
A good commonly-used rule of thumb for your weekly training plan is to combine three to four days of walking with one day of light cross-training (which can include a short run if you can't live without a little speed) and two to three much-needed days of rest. Over the course of the following months, you should slowly build your mileage during two of your walking days.
If you start your training as someone who can handle a walking schedule of 20 miles per week and 6 miles at a time, your 3-Day prep should begin around six months before the event; if you're a brand spankin' new walker, you would want to give yourself a substantial allotment of extra time to ready yourself for this type of activity.
If you are walking in the San Francisco or Seattle events and these are your final weeks, you should already be in what is called the "tapering period." You should continue with activity so that you're prepared, but by lessening your weekly mileage, you allow your body a little rest before go time. This will help your overall strength and minimize risk of injury.
Can't I put the pedal to the metal (or at least the soles to the asphalt)?
The 3-Day organization strictly enforces the "walk" part of the event – running or even racewalking is discouraged. For this reason, your training for the weekend should focus on the type and speed of walking you'll be doing since walking uses different muscles than running does. If you are an experienced runner making the change to walking for the event, make sure to pay attention to technique, form and flexibility. Start with a long distance walk once a week and slowly increase its distance.
How else is the 3-Day different from other races?
Training for the 3-Day should include more than simply the physical factor; it's time for your mindset to be prepared as well. Cell phones and musical devices are banned on the course, so it may be a challenge for you to get used to this type of activity without your usual distractions. It can get boring if you're not in the right frame of mind, so spend some of your training time similarly. And get creative. Take advantage of the way that this event draws people from all "walks" of life and all over the country. Come up with word games, interesting topics of conversation, jokes and fun stories to share with your new friends!
You're already committed to fundraising and fitness – now it's just a matter of visualizing yourself crossing that finish line!
What are some must-haves to bring with me?
Clothing (underwear, sports bras, two shirts per day, a warm sweater and long pants for the evenings, shorts)
Sleeping bag and optional mattress pad and pillow
Towels
Flashlight and extra batteries, or headlamp
Shoes (preferably two pairs that are worn-in)
Water bottle
Sunscreen
Socks (ideally two pairs made of moisture wicking material per day)
Rain jacket, poncho or windbreaker with hood
Photo ID, insurance card and some spending money
Personal medications
Sunglasses, hat, earplugs, plastic bags, toiletries, bug spray, pain reliever, lip balm, etc.
Camera and a notebook to write in (to capture the memories and contact info of all your new friends)
An open mind, great attitude and lots of energy!
What should I leave at home?
Your medicine cabinet (Three shades of eyeshadow and six moisturizers might be a bit unnecessary.)
A little red wagon to carry your stuff (All your gear and clothing will be transported by event staff. But there are weight limitations, so leave your formalwear at home!)
Supplies for a 4-course dinner (Snacks and meals, including a hot dinner after those long days of walking, are provided. Though if you are prone to any post-exercise late night cravings, you might want to bring those along.)
A triage team (First aid and medical support are available throughout the walking route and at the campsites. However keeping some band-aids, petroleum jelly and nail clippers on you at all times isn't a bad idea.)
Enough water to fill a state reservoir (Water and energy drinks for the duration of the walk are provided.)
A hammock, RV or four-poster bed (2-person tents will be provided – but don't forget your sleeping bag and mattress pad. Starting a day of walking after a bad night's sleep doesn't sound too promising!)
It's almost here! What should I be worrying about???
Absolutely nothing except meeting great people and being an inspiration to all of us!
And remember, it's most important that you stay healthy during the walk. Know your limits. If you feel sick or dehydrated, stop. You won't be letting anyone down, but you may be saving yourself a trip to the hospital. Speak to one of the crews along the way about assistance or take a break in one the shuttles available. Don't push yourself– you're already a star in our minds!
What if I can't walk? Can I do something else to be part of this fantastic organization?
No problem, and yes! The 3-Day is staffed by volunteer crew members, who support the event and the walkers by setting up the camp, transporting supplies, marking and patrolling the route, and serving drinks and meals.
For more information on how to get involved as a non-walker, click here to be re-directed to the official Komen 3-Day site.
And of course, if you can't be at the event as a walker or volunteer, you can always sponsor a walker or donate directly to the Susan G. Komen organization. 85% of the net proceeds from the 3-Day for the Cure Walks go to awareness, community outreach, advocacy and fundraising activities for the foundation. The remainder will benefit the National Philanthropic Trust (NPT), which will establish the NPT Breast Cancer Fund, to provide funding for long-term research, treatment, prevention and education projects.
Ah, still too much to think about! Can you help?
Of course! Stop by the SHOES-n-FEET location nearest you and speak to one of our certified shoe fitters. We're an official sponsor of the walk, and we would love to assist you in finding the right shoes, socks and orthotic inserts to make your weekend as comfortable and successful as possible. For that reason, we are also offering a 15% discount on merchandise to all Komen 3-Day participants.
More posts
---
Share this post
---
---