Can I run… without socks?
Posted by JB Smith, Co-Owner on
Most running experts insist that the very first step in a running program (or any exercise, really) is properly fitting, appropriate shoes. It is vital, and that word is not used lightly. But another vital piece of equipment is the sock. Vital because of its capacity to help or harm your feet, and any injury to them would be crippling. So let's take a look at the unsung hero of the foot to better appreciate the features and follies of this piece of equipment.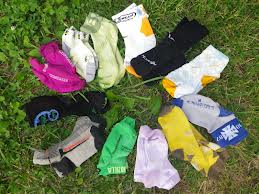 Recently it has been observed a lack of socks in some runners altogether. Some very streamlined and stylish shoes might seem better without socks. But in actual athletic use, socks are essential and cannot be forgone for fashion.
Rule #1 is no cotton socks. Synthetic socks made of acrylic, nylon or lycra are designed to be breathable, dry quickly, and retain their shape. During your sport you will sweat, like it or not, and cotton socks absorb sweat and never dry. They also get heavy and stretch out of shape. Cotton socks around town are nice, when your rate of perspiration is not as rigorous. But when your cotton socks are soaked with sweat, they rub against your feet and toes uncomfortably and can cause blisters and tender areas. And once you have a blister or tender area, you must allow it to heal completely or you are at risk of re-injury each time you go out for a run.
Rule #2 is fit. Try socks on with your running shoes. You want a snug fit to minimize bunching or rubbing. Snug socks can also assist in supporting the arch. In some running shoes you may have enough room to choose a cushioned sock that provides padding to the bottom of the foot. But with some shoes, and in warmer months, thinner socks are more appropriate. Be careful of the toe seam and the way it rubs against either the top of the toes or the tips of the toes. Some socks are woven in one piece and have eliminated any sewn seam. A snug fit in the heel is also important so the sock doesn't shift. The addition of a heel tab can prevent the back of the sock from disappearing down into the shoe.
There are also additional features of running socks that can help avoid the pitfalls of blister development. For those with whose feet get hot, you can still get a cushioned sock but with a mesh window at the top of the foot to keep them cool. If the rubbing or slippage inside your shoe is bothersome, double layer socks give you a buffer and allow the layers of socks to rub together so the outer layer slips but the inner stays secure.  And for those whose toes rub painfully together, toe socks can separate each toe and keep them snug and separate inside your shoes.     
Socks can be the key to avoid blisters, and they happen when you have too much friction, heat, or moisture. Stop by our store for a look at our collection of socks by brands like Aetrex, Jobst, New Balance, SmartWool, Thorlo and WRIGHTSOCK.
More posts
---
Share this post
---
---