Give Shoes, Get Shoes – all for a good cause! (Guest Blog Post)
Posted by JB Smith, Co-Owner on
Check out this inspiring and helpful blog post by popular image consultant, artist and author Jennifer Robin. (Republished from Growing More Beautiful.)
---
WIN A PAIR OF CUSTOM FITTED SHOES FROM SHOES-N-FEET IN SAN FRANCISCO. See details below!
It has always been a challenge for me to find stylish, comfortable shoes. Stacked in my closet are many pairs of shoes and boots that seemed like they would work when I bought them but failed to pass the "all day" test. A career of dressing well while pounding the department store pavement combined with a congenital foot problem has added up to – ouch – foot pain! But luckily I've found things that help. If you are struggling to look fabulous and still be able to walk, read on!
My new podiatrist led me to the specialty store SHOES-N-FEET in San Francisco (they also have stores in Washington State). There I found the expert help I have been missing as I prowled through Nordstrom, Macy's, and other comfort shoe stores. Here is what these fit wizards say about their service: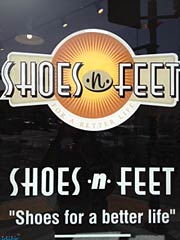 SHOES-n-FEET's unique combination of retail, education and service has "closed the loop" between the medical community, their patients, and retail shoe stores. These stores are unlike any other shoe stores; they are designed to be comfortable and educational places offering customers shoes that fit their feet and their lifestyle. We have a unique selection of attractive and healthy shoes for men and women. We have a superbly trained staff — recognized experts in fitting shoes. From stylish dress and career shoes to walking and athletic shoes, our products and services are designed to keep your feet comfortable and looking good throughout the entire day.
I must admit when I first looked at their selection I was underwhelmed. I've seen many of these brands before, and they never caught my eye. But once I started working with a fitter my view changed. No more guesswork or expensive trial and error – here was a shoe that supported my foot and reduced my pain. Thanks to my new shoes and inserts I am out shopping and walking – and looking good doing it!
I also give credit for my continued mobility to my Feldenkrais teacher Kathy James. If you are unfamiliar with the The Feldenkrais Method® of Somatic Education it is "for anyone who wants to reconnect with their natural abilities to move, think, and feel. Whether you want to be more comfortable sitting at your computer, playing with your children and grandchildren, or performing a favorite pastime, these gentle lessons can improve your overall well being. The Feldenkrais Method can help you overcome limitations brought on by stress, misuse, accident, or illness."
I am grateful for Kathy's dedication and ability, and I benefit tremendously from her classes and private sessions. She has seen me through multiple car accidents and other injuries. The group lessons are reasonably priced, and there is probably a practitioner in your area.
Now that I've shared serious solutions to painful problems, let's get to the fun part!
Fabulous designer and comfort shoes FOR YOU for only $10! Right now, at this very minute, I'm hosting a Give Shoes/Get Shoes Event. The idea came about because Kathy, strong and mighty at 60, is riding from San Francisco to Los Angeles on the AIDS/LifeCyle ride June 3-10. She will spend a week riding the heroic distance of 545 miles to raise funds and awareness for AIDS research and people living with the disease. I was thinking of ways to support her as I was pondering the fact that I was never going to wear many of my shoes again and a light bulb went off in my head. The rest is history, at least for those of you on Facebook.
I am hosting a Shoe Adoption Event with a daily posting of like-new shoes available for only $10! All proceeds go to sponsor Kathy on her AIDS ride. The cute consignment clothing store OOH-LA-LOFT here in Petaluma pitched in 25 pairs of fabulous footwear. I've been having fun photographing each pair and watching to see who claims them on Facebook. It is not too late for you to participate, even if you choose to avoid the nefarious social media. Just email me your shoe size and I'll send you photos of what is available.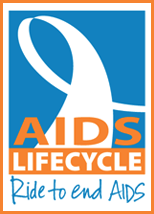 One last great perk! To sweeten the deal, SHOES-N-FEET is donating a new pair of custom fitted shoes! Every person that donates $10 to Kathy's ride will be entered into a drawing for the shoe of their choice. Kathy will pick the winner from all entrants when she returns from LA in June. I am taking donations, or you can go directly to Kathy's donation page. Let me know you've contributed and I'll enter you in the drawing.
This leads me to offer my tips for wearing comfort shoes with style:
Build your outfits around the kinds of shoes you are able to wear. If you are shoe challenged, don't leave them as an afterthought. A pencil skirt does not look good with Birkenstocks, but slouchy long linen pants do.
If your shoes are not thrilling, distract the eye and send it elsewhere. I recommend audacious lingerie like a red cami bra from Soma. Worked for me!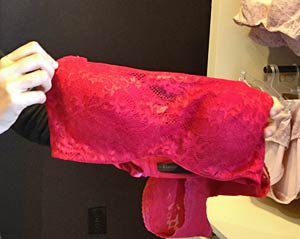 If height makes you feel sexy, check out the stylin' Earthies at earthbrands. Platforms can have a supportive flat foot bed. The adorably chic owners of OOH-LA-LOFT complimented me on my platform Earthies, telling me they looked cool. When I received my much appreciated compliment I was wearing skinny jeans with an oversized sweater. The chunky platforms worked to balance the look.
Heels aren't sexy if you can't walk in them. Pain is not attractive. Neither is awkward, pitched forward posture. We can all tell when someone is uncomfortable and unbalanced. Gorgeous posture and a relaxed swaying of the hips is much more alluring.
Unexpected and quirky can work if it is your look. Sneakers with a full skirt and fitted sweatshirt are shown in the May issue of Lucky Magazine. If you experiment with current style, you have a greater opportunity to spark your imagination and turn convention on its ear. Make a collage for inspiration.
Metallic leather dresses up a casual shoe and a pop of color is fun. Any addition that looks intentional, like you "meant it" instead of defaulted, is fashion!
Luckily "owning your look" gets easier as you get older. What perfect timing! Just as your feet are in need of more TLC, you have the confidence to wear clothes that are both stylish and supportive. Develop your own definition of beauty and strut your stuff without apologies.
For more practical shoe advice, see pages 100 and 170-171 in Growing More Beautiful: An Artful Approach to Personal Style.
More posts
---
Share this post
---
---