Woes of Wedding Warriors
Posted by JB Smith, Co-Owner on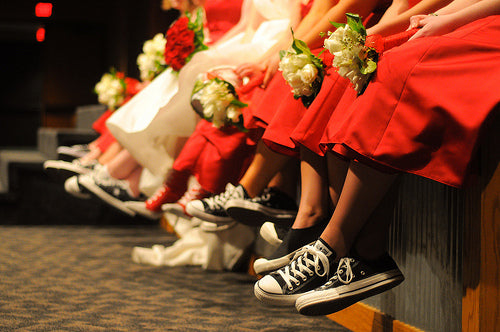 Summer is right around the corner, and with it comes everyone's favorite reason to get gussied up to bake in the sun – summer weddings! June and August are two of the most popular months for celebrating, so there's a good chance many of you will be hearing the words "I do" in the days ahead. Maybe it's even your wedding coming up!
Unfortunately, not everything about weddings will make you joyous; formalwear and hours on the dance floor can be a painful combination for your feet. In a perfect world, wedding attire would look a little more like the photo above (though we sure hope they have some additional arch support in those Chucks!) Unfortunately, sneakers on the bridal party tends to be the exception, not the rule.
There's no doubt that the majority of us have experienced some pretty intense foot pain during and after weddings thanks to high heels, but it's hard to say no to a little height on these days. However, there are ways to minimize discomfort and injury so that you can enjoy these special occasions (and forgive the bride for not deciding on a barefoot beach wedding).
Before
If you're someone who just can't give up the heels or if you know you'll be wearing them consistently for wedding season, it's time to start prepping your legs and feet, and we don't mean getting them smooth. It's time to get them ready from the inside by exercising the important muscles in order to protect against the pitfalls that come with high heel overuse.
Heels, especially sky-high stilettos, are not exactly easy to walk in. Your ankles are constantly at risk. Exercises focused on strengthening your ankles will work to keep you from falling and serious injury if you do in fact end up with your booty on the floor. Also helpful in keeping you upright? Balance exercises! Adding a little yoga into your normal routine will improve equilibrium. It will also help with potential back pain, caused when the curve of your back overcompensates to keep you upright as the shoes cause your upper body to lean forward.
Your toes are another factor in the high heel saga, especially if your shoes are closed-toe and pointy. To avoid pain due to ragged or ingrown nails, make sure to have your toenails properly cut at all times. A pedicure often helps, but you should speak to your podiatrist before going to the salon if you have any serious health issues.
Blisters can cause pain only minutes into walking in heels and have the potential to ruin your impressive dance moves. If you are not used to wearing pumps, protect the most vulnerable skin of your toes with padding, Band-Aids or moleskin.
During
On your feet for hours with all your body's weight heading straight for your tippy toes might cause swelling in your feet. To keep the blood moving and to avoid excess fluids building up in your feet and ankles, take some breaks throughout the night to rotate the foot by moving it around in circles.
Another idea for mid-wedding relief? Backup shoes. We don't necessarily recommend flimsy fold-up flats as they offer no arch support and can be extremely painful to wear, especially when worn right after super-high heels. But if you plan ahead, you can either decide on either wearing a more modest heel (check out our blog post "Not All High Heels Are Created Equal" for tips) or bring a pair of flats with good arch support. Store them in coat check and make the switch when you can't take the pain anymore. This especially goes for those in the bridal party; getting ready, taking photographs, standing throughout the ceremony – it's an all-day nightmare for your feet.
After
Research has shown that wearing high heels can tighten your calf muscles significantly, so when you take off your shoes, they may not react well. Nor will your now-inflamed Achilles tendon. Stretch your calves and tendon out to strengthen and lengthen after a wedding in heels. (The healthy living website FitSugar has a great slideshow with examples of the important exercises you should be doing to keep your feet healthy in heels.)
Other ways to get relief between weddings? Try a relaxing and soothing warm Epsom salt bath to help repair tissues. Or get handsy with deep massage to open up blood flow and to focus in on the most painful spots.
Depending on the shoe, you might develop calluses or cracked skin on the ball of the foot or irritations by the heel. It's important to moisturize these areas if these problems come up so that they can heal properly. Once the skin is broken, you should take great care in keeping the area clean and protected.
Finally, take a break from heels! Unless you've got a heels-only occasion on the agenda, it's time to get your feet into some healthy footwear. Sneakers with good cushioning will give relief to a weary foot, especially in the toes and ball.
Wonderful Wedding Wear
As the your high heels go up in height (and thinness), the pain during and after wear gets worse. That's why we like the Aetrex Ashley for this wedding season. At a reasonable 2 ¼ inches with a stable heel (a little chunkier, but by no means clunkier), the Ashley gives you a painless way to achieve with height. The insoles of this formal summer sandal offer superior arch support, and the memory foam cushioned heel will allow you to dance the night away in comfort.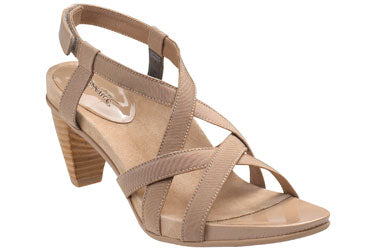 More posts
---
Share this post
---
---