NEW Ghost 10 Review
Posted by Adam Stuhlfaut, Director of Running on
The new Ghost 10 from Brooks arrived in the store this week.  The new Ghost 10 continues the tradition of being a moderate-weight to lightweight neutral cushioned trainer.  The 10-version is not much of a departure from the 9-version, but Brooks has made changes that can positively or negatively impact the specific user.
The new model comes in about one-third to one-half an ounce lighter than the predecessor. The women's is advertised at 8.8 ounces for the new 10, while the 9 was 9.1 ounces. That amount of weight is small but could be significant given the reasons for the weight loss that help to explain the changes to the shoe. 
Removed rubber from the lateral crash pad.  Removing rubber decreases the weight of the shoe, but also makes it less durable.  Also, slightly less supportive laterally, and less friendly to midfoot strikers.

 

Lengthened and deepened the flex groove in both the heel and the forefoot. Doing this makes the shoe more flexible and soft.  Also, uses less material and can lead to the decreased weight.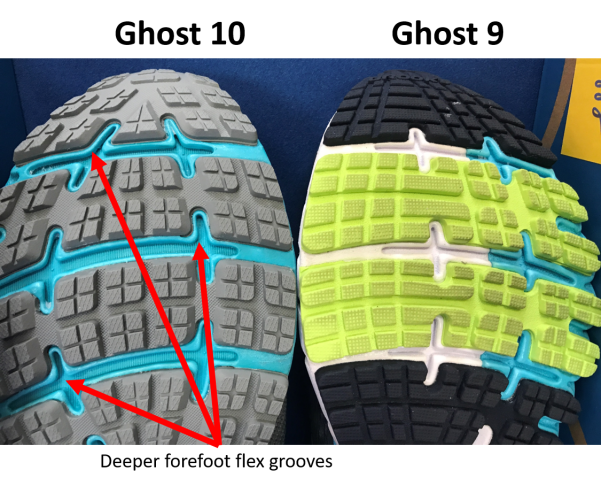 In sum, the new Ghost 10 is light, soft and flexible.  
I'll be recommending it for customers with
•    a medium-high to high arch
•    neutral biomechanics 
•    heel strikers 
•    are not too hard on their shoes  
I will recommend caution for those customers with 
•    low to flat feet
•    severe pronation or supination
•    midfoot strikers 
•    tend to wear their shoe out fast
 
More posts
---
Share this post
---
---