November's Shoe of the Month: Haflinger Indoor/Outdoor Slippers
Posted by JB Smith, Co-Owner on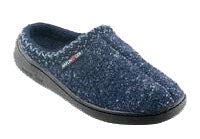 Haflingers are a perfect shoe to keep your feet happy in the winter months. Whether relaxing by the fire or preparing a festive dinner in the kitchen, you will be grateful for these good-looking and comfortable house clogs.
Offered in a wide assortment of colors, the boiled wool and wool felt that make up the Halflinger slipper is a natural insulator, keeping your feet cool in the summer and warm in the winter. The breathability offered by these materials never cause your feet to overheat and become sweaty, otherwise so common when wearing synthetic materials. And when the feet can breathe, the mind can relax.
With built-in arch support or the option of a removable footbed for the use of additional orthotics, the benefits of Haflingers are for everyone: men and women, old and young. Easy to slip on and with a wide toe box, diabetics, those who suffer from plantar fasciitis or who have recently experience post-operative podiatric complications will find Haflingers especially helpful in dealing with their foot health problems.
If you prefer not parting with your Haflinger's when you head out, don't worry. The rubber sole allows you to use them outside as well, without risking slips and falls.
More posts
---
Share this post
---
---