On Running Review + Vblog
Posted by Adam Stuhlfaut, Director of Running on
One of our favorite new brands is On Running.  New running shoes and new shoe brands are launched into the market all the time.  Most running shoe upstart brands claim to be different, or standard brand names claim to come out with new technology. Those new brands or new technologies are often not that revolutionary.  On Running has truly created something new with their line of "cloud" based technology.  
How is On Cloud different?  The cushioning on an On Cloud shoe is more adaptable than traditional running shoes.  The purpose of the On cushioning system is not just to absorb energy, it takes energy and transfers it through the shoe to give back at toe off.   The individual cushioning pods both compress from the vertical force applied to the shoe at footstrike, but also move laterally to transfer energy.  This lateral transfer is the unique part that sets On Cloud apart from traditional one-piece foam midsoles. It means you need less material to make the cushioning work.  Less material means less weight, and On Cloud shoes are some of the lightest cushioned running shoes in stores today.  
In store we carry three models of On Running shoes: Cloud, Cloudflyer and Cloudcruiser.
Cloud floats here at Shoes-N-Feet between two different categories.  In tech running, Cloud is On's racing shoe.  Cloud is lightweight, flexible and fast.  It comes with pre-installed elastic laces that make it an easy on and off shoe.  This is most attractive to triathletes trying to speed up a triathlete's bike-to-run transition.  In our casual section, Cloud sells as a good looking kicking-around shoe and as a shoe for travelers. Our customers travelling to Europe love this shoe because they can have a comfy sneaker that doesn't look like a sneaker.  Cloud looks good, comse in multiple colors and feels great.
Cloudflyer is On's go-to high mileage neutral cushioning running shoe.  The cushioning pods are larger than the Cloud, and the base is wider, which creates more geometric stability.  Cloudflyer is not a pronation control shoe per se, but the wider forefoot can help those who have a bit of late-stage pronation at toe-off.  The Cloudlyer is made to run 20 miles and not feel like you have a shoe on at all.  
Cloundcruiser is On's most substantial and supportive running shoe. All the On shoes have a "speed board" built into the midsole that give the shoes torsional stability and also works with the energy transfer of the cushioning pods.  Cloudcruiser has the stiffest speed board and its cushioing pods are 100% rubber (vs foam and rubber combos of Cloud and Cloudflyer).  The rubber pods and stiff speedboard create a more stable ride.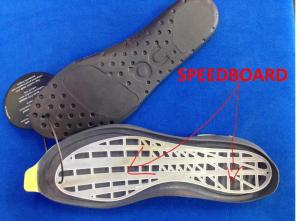 Like Cloudflyer, Cloudcruiser is not a pronation control stability shoe, but its build can help with a lot of the common injuries plaguing walkers and runners like plantar fasciitis, shin splints.  In addition, the speed board runs heel to toe which creates a supportive forefoot environment for common forefoot issues like metatarsalgia and bunions.  
More posts
---
Share this post
---
---