Why do we carry so many different types of insoles and arch supports?
Posted by JB Smith, Co-Owner on
Last time you were at our store, you may have noticed a whole wall of colorful insoles. That is because there is no single "perfect" arch support on the market. Different people have different feet, and different feet require different support.
Within the vast of array of insoles, there are soft, semi-rigid and rigid with variations in arch height of low, medium and high. These 6 characteristics must be mixed and matched to provide the very best support for the individual foot. At SHOES-n-FEET, we take a look at your arch height and foot flexibility. We use a tool called iStep that gives us a view of where pressure is focused on the sole of the foot and what part of the foot is weight bearing. Using this information, we can use the insoles to redistribute the pressure on the sole of your foot to make walking the healthiest and most comfortable possible.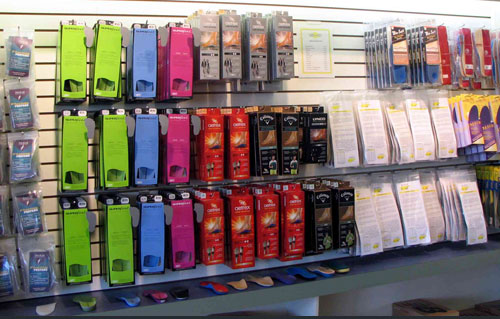 We recommend insoles to many people, and it may depend on the shoe they are purchasing. But specifically people who suffer from these problems can be assisted by insoles: plantar fasciitis, neuromas, metatarslagia, Achilles tendonitis and bone spurs. Insoles assist your foot so it doesn't have to work as hard when trying to adapt or compensate for these injuries or conditions.
Somewhere in the back of your mind you may suspect that we are just trying to "upsell" you and get a bigger sale. The insoles we carry all range from $35-$65 and are those we have found to be the most helpful and corrective insoles. When you purchase an insole that costs less than $25, it may add cushion but it is unlikely to be corrective and change your foot alignment. Conversely, spending more than $80 will not get you a significantly better experience, either. At that price, it would be worthwhile to go to a podiatrist and be fitted for prescription orthotics. We carry a wide variety of insoles (the best selection on the West Coast!), for athletic, casual or dress shoes so that we can serve your needs better and make sure your feet are happy!
More posts
---
Share this post
---
---