Winter Fitness Part 1: What to Do For Exercise in a Winter Wonderland
Posted by JB Smith, Co-Owner on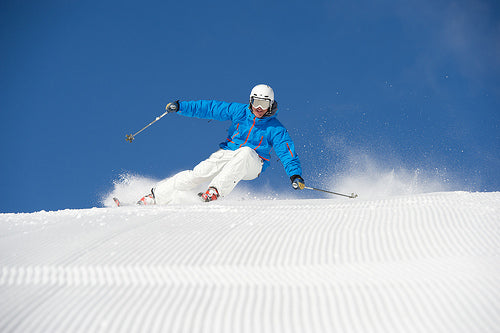 Oh, winter, why so cold? Don't you know that low temperatures, rain and snow make some of us want to hide away indoors, glued to a roaring fire? For some of us, staying active in winter is a struggle. Freezing mornings, lots of rain and short days give us enough reasons to put off exercise for later days. But placing your fitness routine on pause until spring isn't the right idea. Leave the hibernating to the bears! There are ways to be active during winter, keeping you healthy all year long (and reducing any guilt that comes from eating that extra gingerbread cookie!). Check out our ideas below in the first installment of our three-part series on winter fitness.
Mixing up your routine at home
Exercising at home is great: convenient, comfortable and economical. That is, if you can stay motivated to actually do it. Winter is a perfect time of year to get those workout videos you've collected over the years out of retirement. It doesn't matter if the hairstyles and personalities onscreen are a little dated – working out with Richard Simmons and Jane Fonda will reap benefits, as will kicking it with Tai Bo and strengthening your core with Pilates.
The key with home workouts is not getting bored. Take advantage of your children's Wii games, create your own routines set along to your favorite music (with personalized playlists, of course) or add some cardio reps into your cleaning and chore schedule.
Focusing your routine on the homestead will allow you to do a little outside exercise while staying close to home. Heading outside for short walks or runs and then returning for some inside exercise will allow you to stay warm and minimize being sweaty outside (which is not only uncomfortable, but can also lead to hypothermia).
And you know, you could always shovel snow! It's a good body workout with the added benefit of keeping your yard, path and sidewalk clean and safe to use.
Hitting the gym
Gyms love to promote special holiday deals for winter fitness and, as long as you use your membership, gyms are a great option to keep you moving until spring (and beyond).
Gyms offer many ways to keep you motivated, offering a wide variety of machines and group classes to choose from. Step aerobics, Zumba, core strengthening, dance, spinning, yoga, kickboxing – there's something for everyone. The treadmill, stairmasters and elliptical are go-to machines for cardio workouts that might be a little too big or expensive to have in your own home, but you can mix and match your sessions at the gym. No chance of getting wet or cold here! Many different types of resistance for strength training are also normally available to work different muscles sets in different ways. With classes, cardio machines and weights available, you won't easily get bored. If you ever need a little extra push, you can always treat yourself to a few sessions with a personal trainer.
And speaking of gyms, let's take it back to the real meaning of the word: gymnasium! The perfect spot for indoor sports during the winter. While there are tons of children's soccer and basketball clubs this time of year, you may not know of the adult leagues in your area. Intramural and charity tournaments for sports ranging from soccer to dodgeball abound; if there's none in your area, look into starting your own. It's a great way to meet people, spend time with friends and learn new skills in a relaxed environment.
Taking it to the slopes
One thing that winter offers that no other season does: snow! And oh, the activities available, if you're lucky enough to live close to mountains. Skiing, snowboarding, snow-shoeing, sledding – each will provide an unforgettable workout for your arms, legs and core. No mountains nearby? Look for a lake! It's probably only weeks away from being frozen over, perfect for an afternoon of ice-skating.
But skiing can do damage on your feet, so you want to make sure to avoid any short-term or long-term injuries. The unnatural forces on your feet, the potential slippage within your boot, foot cramping and tight boots can wreak havoc on your comfort and foot health. The Foot and Ankle Center of Washington has information on ski boot orthotics that should be used to minimize problems if you are a regular ski bunny.
Running with mittens
If you are wiling to brave the winter weather to continue your normal workout routine of exercise outside, you must remember to stay both warm and dry. Getting wet is the fastest way to lose body heat, and especially in the rainy climates of many of our SHOES-n-FEET communities, this is something to really keep in mind. As a heat conductor, water will move heat from your body to the cold air outside, leaving you shivering and at risk for hypothermia. Moisture-wicking and waterproof materials should be worn to keep water away from your skin.
Also important is to make sure your extremities are well-covered. To defend against the cold, your body will direct blood to your core organs and away from your fingers and toes. Use gloves and proper socks to keep these parts warm and protected from frostnip or frostbite.
Check back over the next two weeks for Part 2 and Part 3 of our Winter Fitness Series
***
Wondering what shoes and socks to wear for the fitness options above? Started a new winter routine but your feet aren't onboard? Experiencing foot pain due to new activities? Stop by a SHOES-n-FEET store today to speak to a Certified Shoe Fitter or email Ask the Shoe Fitter!
More posts
---
Share this post
---
---